Continuing Care Retirement Communities (CCRCs) are senior living communities, such as Edgewood Summit, that offer a continuum of care on-site. In addition to Independent Living, Assisted Living, Memory Care, Skilled Nursing and Senior Rehabilitation are typically provided within the same community, or the community coordinates access to such services with nearby care providers. At most CCRCs, Independent Living residents can move to Assisted Living or a higher level of care without moving from the community.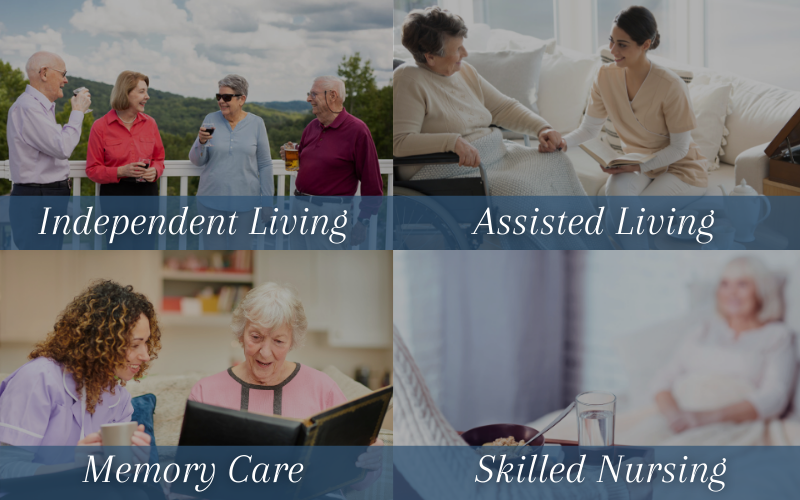 CCRCs also have a wider range of on-site medical professionals either on staff or employed from outside resources. From registered nurses to occupational therapists to nutritionists, these professionals are usually specially trained in geriatric care. They help CCRC residents set personal health goals and develop individualized plans that change as residents age.
Avoiding the stress and anxiety of relocating when higher levels of care are needed is an invaluable core difference between a CCRC and a nursing home. And unlike individual nursing homes, CCRCs go far beyond medical care. Many senior living communities offer a variety of services, amenities and enriching programs to help residents live a life of fulfillment in retirement. Fitness classes, lifelong learning opportunities, hobby activities, engaging social programming and restaurant-style dining are just some of the premium perks that further differentiate a CCRC from other senior living options.
Additionally, CCRC residents are often able to choose from a wide selection of residence locations and floor plans to find a home that suits their health needs and lifestyle. One of the most helpful perks of a retirement community vs. nursing home is that residents can leave the worries of lawn care and home maintenance behind when they move in.
Many CCRCs have another important advantage you should consider when you compare senior care – 501(c)3 nonprofit status. The nonprofit classification allows CCRCs to ensure that all profits are funneled directly back into the community. Nonprofit CCRCs are also generally held to higher standards of care than a stand-alone nursing home.
As West Virginia's first and only locally owned, nonprofit CCRC, we provide every level of senior living in Charleston WV with exceptional quality. Edgewood Summit is a true CCRC, where residents have high-quality care, thoughtful services and premium amenities for life. In our independent living community Charleston, WV., assisted living, memory care, skilled nursing and rehabilitation levels, our residents have no trouble staying safe, active, and enjoying the rewarding lifestyles they've created here. But because we don't accept direct admittance to our skilled nursing care, it's important to enter the continuum now, before you need future care. To learn more about Edgewood Summit and explore our senior living options, contact us through our website, or call us at 304-346-2323.

Want to learn more about how a CCRC can benefit you?

Join us on Wednesday, January 27th at 11AM to discuss the Value of a CCRC!

Simply RSVP by calling 304.346.2323 or clicking "RSVP" below. Be sure to provide us your email so we can send the information you need to join the webinar!